Education & Professional Development
TESL Ontario works diligently to develop and delivery top-quality professional development for our members and the ESL community at large. Learn about new innovations, best practices and important trends in language training through our bi-monthly webinar program, our monthly interactive TESL Dialogue sessions, our members-only Mentorship Program, our exclusive YouTube content, local affiliate chapter events, and our annual conference.
Earn professional development credits and certificates for your participation in our events to enhance your CV, expand your PLN and further your career development.
Professional Development & Recognition
Members enjoy reduced fees for the annual conference featuring two exciting days of ESL workshops, presentations, symposia, keynote speakers, networking and more.
TESL Ontario webinars are offered free of charge to members. Our popular webinars are offered twice a month and provide members with additional PD in a wide range of areas of language training.
Annual Recognition Awards
TESL Dialogue sessions are offered free of charge to members. These sessions are guided virtual discussions on a pre-determined topic that is facilitated by a subject-matter expert.
TESL Ontario local Affiliate Chapters offer numerous professional development (PD) events throughout the year.
Lear more about the Affiliate Chapters and their Events
TESL Ontario celebrates members of the TESL community for their outstanding contributions to this proud profession with two annual recognition awards, the Distinguished Contribution and the Sparks of Excellence Awards.
Network & Career Development
TESL Ontario's job board is designed to help employers solve staffing needs and to assist candidates seeking new opportunities in the language training profession.
The Career Connection event is a half-day event held during the annual conference. The event includes an employment focussed forum discussion and a job fair featuring employers from various sectors and regions in Ontario.
The Job Fair component of the Career Connections event is open to all TESL Ontario members and TESL students free of charge. The employment panel discussion is a part of the annual conference is included in the cost of a conference registration.
The Volunteer Job Board offers listings of available ESL related volunteer positions.
Volunteer opportunities, both in Canada and abroad, play an important role in the career development of new teachers, helping them gain valuable experience and build peer networks.
In addition, volunteering is a great way for retirees, and other language training professionals to contribute to their communities in their spare time.
Writing for TESL Ontario publications is a great way to obtain PD hours, share your knowledge and expertise and get excellent exposure for your published work through our large network of members and social media followers.
TESL Ontario encourages submissions for both the Contact e-magazine and the TESL Ontario Blog.
TESL Ontario offers quality professional development opportunities for language teachers, researchers, teacher trainers, and training professionals in Ontario. We invite presenters to share their experience, knowledge, innovative ideas, practices, and research by submitting a proposals to present at the Annual Conference, Affiliate Chapter events or a webinar.
Volunteer with TESL Ontario and the Affiliate Chapters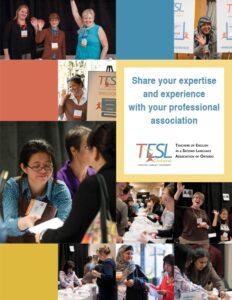 Volunteering can be a great way to gain valuable experience in the field of language training, connect with peers and make new contacts, gain professional development credits for TESL Ontario accredited membership renewal or to simply give back to your community.
Find out about the personal and professional benefits of volunteering your time and expertise with TESL Ontario and local TESL Affiliate Chapters.
Benefits
Excellent management and leadership experience
Professional Development (PD) credits toward your PD requirements for accredited membership renewal
Opportunity to develop an active community of peers in your region
Valuable networking opportunities to connect with your peers and build your personal learning network
The opportunity to make new friends and enjoy the camaraderie that is shared amongst a community of volunteers.
Serve on a TESL Ontario Committee
Members who would like to express their interest in volunteering for a TESL Ontario working committee are encouraged to submit the Expression of Interest in Joining a TESL Ontario Committee form.
Please note that different committees may have different application processes and requirements.
Volunteer on a TESL Ontario Team
If you are interested in volunteering for any of the TESL Ontario teams, please submit the Volunteer Team Application form.