Video Library
Missed an event? Do not worry! Discover all previous TESL Webinars and TESL Dialogues here in our video library archive. View recordings any time, anywhere- and at your own pace. TESL Ontario members have unlimited access.
Archived TESL Webinars
Video Library Available to TESL Ontario Members
Click on any of the links below to access the archived videos. You will be asked to log into Tutela.ca. Once logged in to Tutela, you will be taken directly to the video file you have selected.
To search for key words of events on Tutela, go to: https://tutela.ca/GroupEvents?organicgroup=8594&when=past
The TESL Ontario full video library is only available to TESL Ontario members.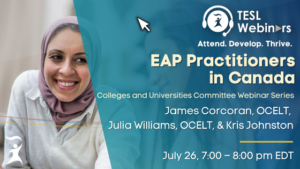 EAP Practitioners in Canada
James Corcoran, OCELT, Julia Williams, OCELT, & Kris Johnston
July 26, 2023
Webinar Title
Presenter(s)
Original
Air Date
Commonlit to Hone Reading, Listening, and Writing Skills
Gonul Turkdogan, OCELT & Dr. Laureta Vavla, OCELT
June 28, 2023
Using Images for Speaking and Writing Activities
Dr. Lynn Zimmerman
June 21, 2023
Now And Later: Tools For Pre-Arrival Assessment
Christina Wade & Lorena Chatwell
May 31, 2023
Cultivating Trauma-Informed Spaces in Education, Diversity, Equity and Inclusion Committee Webinar Series
Nicole Johnson
May 17, 2023
Working With Adult ELL Students With Undiagnosed Learning Disabilities
Dr. Cheryl Duquette
April 26, 2023
Having Fun and Teaching IELTS Reading
Dr. Mehdi Khodaparast
April 23, 2023
ChatGPT: Beyond Challenges and Opportunities
John Allan, OCELT
April 20, 2023
ChatGPT in Language Teaching: Challenges and Opportunities
John Allan, OCELT
March 28, 2023
Lifting Poetry Off the Page
Annie Altamirano
March 26, 2023
From Task-Based to Action-Oriented Listening
Dr. Yuliya Desyatova, OCELT & Cheryl Fretz, OCELT
March 22, 2023
Elevate Your Game Through Communities of Practice
Hind Elyas
February 25, 2023
Multi-Sensory Learning in an Online Context
Jessica Leslie
February 22, 2023
Google Forms and Assessments
Shabana Shahzad
January 22, 2023
Taking Aim for Meaningful Research Results
Dr. Gordon Moulden
January 19, 2023
Webinars prior to 2023
Webinar Title
Presenter(s)
Original
Air Date
Apps for English Language Teaching and Learning 
Grazzia Maria Mendoza
24-Nov-22
Designing Visually Successful Materials for Learners
Gabriela Kleckova
20-Nov-22
Lessons Learned: Teaching About Racism in the ESL Classroom
Wales Wong
28-Sept-22
Job Skills for Instructors
Anjum Karimi, OCELT
31-Aug-22
Playing to Learn: Games in the ESL Classroom
Rachel Fourny, OCELT
25-Aug-22
Using Avenue.ca – Learner Reflection Tools
Kevin Wang, OCELT
27-July-22
Five Research-Informed Best Practices for Remote/Online EAP
Dr. Karen Englander
& Bruce Russell
20-July-22
Developing Intercultural Competence in the Virtual Classroom
Paramita Dutta, OCELT, PhD
22-June-22
Diversity, Equity, and Inclusion Resources on Tutela
Diane Ramanathan, OCELT
15-June-22
Vicarious Trauma in English-Language Teaching
Panel: Allyson Eamer et al
7-June-22
Assessment for Learning: the Road to Improvement
Annie Altamirano
29-May-22
Understanding Gender and Sexual Diversity
Celeste Turner
18-May-22
Differentiated Instruction – Myth and Reality
Annie Altamirano
24-Apr-22
You Think It's Ungrammatical, but It Just Ain't So  
Brett Reynolds
20- Apr-22
Vocabulary for CLB 1-4
Brett Reynolds
27-Mar-22
Extensive and Intensive Reading Resources
Gonul Turkdogan, OCELT
24-Mar-22
The Effectiveness of using AWE in Second Language Writing
Ameni Benali, OCELT
23-Feb-22
Career Bootcamp: Networking 2.0 – LinkedIn
Katina Deischel
16-Feb-22
H5P Power Tools
John Allan
30-Jan-22
Creating Assessments for Avenue.ca
Kevin Wang
19-Jan-22
Using Toastmasters™ Techniques to Improve Verbal Fluency
Jennifer Artan
21-Nov-21
Who Owns English? Ending Native-Speakerism
Kathryn Brillinger,
Nasreen Sultan &
Laura Stoutenburg
27-Oct-21
A Low (to No) Tech Approach to Corpus Analysis
Julia Williams
20-Oct-21
Bringing Mindfulness to the ESL Classroom
Andreia Arai-Rissman
30-Sep-21
Newcomers in Nature
Kaitlyn Quigley
22-Sep-21
Career Bootcamp: Learn the ABCs of Successful Interviewing
Katina Deichsel
25-Aug-21
Teaching Productive Skills to ELLs – Exploring Bubbl.us, Flipgrid and Google Docs
Livia Pataki &
Doina Nugent
22-Aug-21
Language and Gender Representation in Language Classrooms
Julie Dawson &
Stephanie Kinzie
15-Aug-21
Career Bootcamp: Writing Rousing Resumes
Katina Deichsel
28-July-21
Teaching Reading and Vocabulary to ELLs – Exploring Quizlet and CommonLit
Livia Pataki &
Doina Nugent
25-July-21
How to Jumpstart a Successful ESL Teaching Career
Heather Donnelly
22-July-21
Teaching Pragmatics
Mehdi Khodaparast
27-June-21
Crafting Captivating Cover Letters: Standing Out is Easy!
Katina Deichsel
23-June-21
Get it Write. Successfully Teaching and Assessing Writing Online – Part 3: Assessing Writing in Higher Education in Online Environments
Lavaughn John
26-May-21
Music in the ESL Classroom
Rachel Fourny
19-May-21
Mental Health, Self-care, and Teacher Wellness – a Panel Discussion
Anjum Karimi,
Patrice Palmer,
Teresa Kinney
16-May-21
Get it Write. Successfully Teaching and Assessing Writing Online – Part 2: College and University
Lavaughn John
28-Apr-21
Using and Licensing Open Educational Resources (OERs) – Part 2
Shahla Noor Al-Deen
18-Apr-21
Online TESL Resources
Rachel Fourny
31-Mar-21
DOING IT DIGITALLY! Let's Talk About Literacy
Kathleen Guerini,
Dana Augustino,
Linda Condello,
Samantha Banks
25-Mar-21
Student-Centred Games & Activities
Sara Alexandre
21-Mar-21
Using and Licensing Open Educational Resources (OERs) – Part One 
Shahla Noor Al-Deen
28-Feb-21
Get it Write. Successfully Teaching and Assessing Writing Online – Part 1: High School
Lavaughn John
24-Feb-21
Google Classroom for Beginners
Shabana Shahzad
27-Jan-21
EdTech for ELT Professionals – a Panel Discussion
Jim Edgar,
Emily Cameron,
Patrick Chan
20-Jan-21
How Public Libraries Can Support You and Your Learners

Tamsin Cobb

17-Jan-21
Memory Maps – a Task-Based Language Learning Activity
Leanna Turner
13-Dec-20
Teaching Literacy to English Language Learners
Alexis Manuel &
Emily Castle-Dunn
6-Dec-20
Copyright for ESL Professionals
Mélanie Brunet
25-Nov-20
The Importance of Extensive Reading in Language Learning
Gonul Turkdogan
18-Nov-20
MS Teams Tutorial for Teachers
Marlaina Riggio
28-Oct-20
Incorporating the Arts in the EAP Classroom
Mahgol Izadi
18-Oct-20
Task-Based Language Teaching: From Tasks and Beyond
Leo Gomez &
Michael Landry
27-Sept-20
Google Classroom – a Panel Discussion
Jen Artan,
Rabia Rashid, &
Shabana Shahzad
20-Sept-20
Energize Online Classes With Virtual Experiences
John Allan
16-Sept-20
Canada Isn't Racist, eh? Let's Discuss
Kattawe Henry
10-Sept-20
Using Sociodramatic Play in ESL Development
Fernanda Batista
30-Aug-20
Strategic Team-Building Exercises for a Virtual and F2F Classroom
Jen Artan
30-Aug-20
Crossing the "Rubricon" – Designing and Using Effective Rubrics
Donna Pearce &
Eldon Friesen
19-Aug-20
Online Tools for Teaching English Language Learners
Emily Castle-Dunn
05-Aug-20
Creating Digital Classes Using Google Classroom
Rabia Rashid
26-Jul-20
Horticultural Therapy in ESL Lesson Planning
Christina Klein
18-Jul-20
English and Nature – Making Your Classroom Fly
Nancy Pancheshan
18-Jul-20
Reading and Presenting Circles
Sherry Hejazi
16-Jul-20
Mindfulness – An Approach to Relaxation
Anjum Karimi
21-Jun-20
Catherine (Kate) Maven
21-Jun-20
MINI-TOSCON: Intercultural and Plurilingual Language Teaching: What, Why, and How
Alanna Carter &
Rebecca Schmor
06-Jun-20
MINI-TOSCON: Overcoming Learners' Affective Barriers with Asynchronous Information Communication Technology
Katina Deichsel
06-Jun-20
Accessibility in Language Teaching
Anna Bartosik
02-Jun-20
Free Online Learning Platforms 2020: A Critical Look at What's Available
Jen Artan
31-May-20
Teaching Green Real-World Tasks in the ESL Classroom
Rajpreet Lotay
24-May-20
Mentoring Student Teachers – Fostering Instructional Development
Sharmaine Itwaru
29-Apr-20
What's New in the Best Practices Directory in 2020 **
Juilanne Burgess
23-Apr-20
Virtual Teamwork – How Professionals Can Work as a Team Remotely
Tamsin Cobb
16-Apr-20
Educational Technology 2020 – What Works for Adult Language Learning Classrooms **
Jen Artan
13-Apr-20
Best Practices in Pronunciation Teaching **
Simona Sunara
07-Apr-20
Teacher Self-Care in Times of Change, Stress, and Uncertainty
Patrice Palmer
05-Apr-20
The BlendSync Approach to Teaching ESL: Pedagogy and Technology
Dmitri Priven &
Donald Moen
26-Mar-20
A Consideration of Intercultural Curricula
Alanna Carter
22-Mar-20
Coping with COVID-19 Using Online Instruction
John Allan
15-Mar-20
Using ESL Students as Instructional Resources
Mostafa Hasrati
23-Feb-20
Slipping in Slang
David Burke
19-Feb-20
Promoting Plurilingualism Through the LINCDIRE Project
Andre Scholze
26-Jan-20
All of the Above? Examining Multiple-Choice Questions
Beverly Baker &
Marie Gravran
19-Dec-19
Teacher Development Workshop for Technology-Enhanced Learning
John Allan
12-Dec-19
Action Research: Foundations of Qualitative Research, Part 2
Mostafa Hasrati
24-Nov-19
Intercultural Fluency in LINC Classrooms: Teacher Training and PBLA
Sandhya Ghai
20-Nov-19
Dealing With Multi-Level ESL/EFL Classes
Maria Glass
23-Oct-19
Action Research: Foundations of Qualitative Research, Part 1
Mostafa Hasrati
20-Oct-19
Using Socrative for Formative Assessments in the Classroom
Afrouz Mobayen
29-Sep-19
Did You Get It?" Activities and Assessments for Bottom-Up Listening
Mary Ritter
22-Sep-19
Reduce Writing Anxiety: Creative-Critical Thinking for Literacy
Christine Boyko-Head
28-Aug-19
Using Google Sites for Scaffolding Writing
Ruth Emode
22-Aug-19
Bridging the Cultural Gap
Munjeera Jefford
31-Jul-19
Enhance Your Materials With H5P
John Allan
17-Jul-19
Creating Assessments – Productive Vs. Receptive Skills **
Anna Bartosik
17-Jul-19
The Importance of Lesson Planning **
Jen Artan
14-Jul-19
Using Digital Backchannels in the English Learning Classroom **
Jen Artan
09-Jul-19
Improving Pronunciation Using Icebreakers, Warmups, and Short Activities
Mary Ritter
27-Jun-19
When ESL Meets Escape Rooms
Marlaina Riggio
20-Jun-19
Learning Tech Innovation in the Adult Settlement Language Training Sector
Rob McBride
30-May-19
Timely Talk About Tobacco
Annie Levitan &
Joanne Mercer
15-May-19
What's New in the Best Practices Directory in 2019 **
Julianne Burgess
30-Apr-19
Dealing With Multi-Level ESL/EFL Classes (Video not available)
Maria Glass
24-Apr-19
Task-Based Language Teaching: Theory to Practice **
Leonardo Gomez &
Michael Landry
31-Mar-19
Anywhere, Anytime, Anyway Learning: Blend-Sync ESL Classes
Dmitri Priven &
Donald Moen
24-Mar-19
Techy Writing Tasks for PBLA
Thura Aljubury
17-Mar-19
Migration, Trauma, and Mental Illness: Implications for Language Learning
Allyson Eamer
24-Feb-19
Teaching English with Blockchain Technology
Andrew Wagner
19-Feb-19
Leadership: Does the Literature Match Up With the Classroom Experience?
Sarah Langridge
27-Jan-19
Creating Digital Scavenger Hunts
Nancy Van Dorp
20-Jan-19
Why Teachers Should Care About Self-Care
Patrice Palmer
11-Dec-18
Project Based Learning 2018 – Approaches and Tools **
Jennifer Artan
20-Nov-18
Promoting Health in and Beyond the Classroom
Annie Levitan &
Aliya Desai
20-Nov-18
Planning the Use of Small Mobile Devices in your Adult Language Classroom **
Jennifer Artan
19-Nov-18
Communication Competency at Work: More Than Just Language
Tuula Lindholm
18-Nov-18
Implementing PBLA: Did We Achieve What Was Intended?
Yuliya Desyatova
24-Oct-18
Audio-Recorded Feedback for Second Language Writing
Chadia Mansour
21-Oct-18
Padlet: More Practice & Fewer Headaches
Aga Wolczuk &
Maria Pop
12-Sept-18
Using Visuals to Support Language Learning
Meredith McGregor
22-Aug-18
Technology Enhanced Personalized Learning for Adult Language Classrooms **
Jen Artan &
Nancy VanDorp
16-Aug-18
Répertoire ontarien des pratiques exemplaires en matière de formation linguistique (FSL)
Simona Sunara
16-Aug-18
Pedagogy, Frameworks & Technology: Learning in the Digital Age – Part 3
Sylvia Buchanan
25-Jul-18
Academic Skills Development through Content-Based Learning in an EAP Program
Tetyana Vdovina &
Kiki Ernikoglou
18-Jul-18
Pedagogy, Frameworks, & Technology – Learning in the Digital Age – Part 2
Sylvia Buchanan
20-Jun-18
The Forgotten Skill – Building Vocabulary for Spoken Production
Kerstin Okubo
17-Jun-18
Pedagogy, Frameworks & Technology: Learning in the Digital Age – Part 1
Sylvia Buchanan
30-May-18
Simplifying Literacy Assessment Tasks
Adrienne Horvath Cortes,
Alison Wilson &
Serena Reis
27-May-18
Google's Blogspot for e-Portfolios and Classroom e-cosystem
Joseph Ng
29-Apr-18
Teaching Intercultural Awareness and Communication **
Yecid Ortega
22-Apr-18
Pragmatics in the Adult Language Learning Classroom
Jen Artan
31-Mar-18
Language Barrier and its Cognitive Consequences in the Workplace and Education
Edalat Shekari
28-Mar-18
Literacy Assessment Results: Understanding The "L" Factor
Janet Guppy,
Esther Bruins, &
Samantha Banks
21-Mar-18
An Inter-Culturally Sensitive Approach to Address 'The Issue' of Plagiarism **
Dr. Marlon Valencia
04-Mar-18
Hearing Rhythm, the Key to Speaking English Fluently
Jacqueline Johnson
28-Feb-18
Using the Best Practices Directory of Resources **
Judith Bond
25-Feb-18
Exploring Tutela 3.0 – PBLA Resources and Webinars
Diane Ramanathan
28-Jan-18
TESL Ontario: Increase Learner Engagement with Kahoot!
Nancy Van Dorp
21-Jan-18
Improving Summarizing Skills to Foster Reading Comprehension
Linda Hargreaves
17-Dec-17
Slow = Fast: Back-to-the-Well for Learner Success
Kelly Morrissey &
Dr. John Sivell
10-Dec-17
Endless Engagement for All Four Skills Through Dictation Triptychs
Joseph Ng
29-Nov-17
Data-Driven Learning Lite with WordSift
John Allan
22-Nov-17
Using Google Drive to Foster Independent Learning
Nicole Horsley
5-Nov-17
Small Talk With a Purpose: Utilizing the Ford Method to Get Noticed
Katina Deichsel
29-Oct-17
Digital Breakouts using Google Forms & Google Sites **
Jennifer Artan
24-Sep-17
Digital Autobiographical Identity Texts as a Reflective Tool in ESL
Dr. James Corcoran
17-Sep-17
Google Forms – Quizzes, Data Collection & More **
Jennifer Artan
27-Aug-17
Teaching Literacy Students in a Multilevel Class Using PBLA
Stephanie Leutner
20-Aug-17
Educational Technology – What's on the Horizon for 2018
Jennifer Artan
26-Jul-17
Power Listening – Pre-Listening Strategies for Success **
Munjeera Phillips-Jefford
19-Jul-17
Perfecting Your Pitch! Captivate Your Next Potential Employer in Thirty Seconds
Katina Deichsel
25-Jun-17
Activities to Enhance Vocabulary Learning  **
Cecilia Aponte-de-Hanna
21-Jun-17
Language Learning – Seven Steps to Critical and Creative Thinking
Dr. Ken Beatty
24-May-17
Discussing Healthy Living Topics with ESL Learners
Jodie Brant,
Shannon Carney
17-May-17
Critical Thinking in a Business English Environment
Atif Malik
7-May-17
How to Create an Online Shop for Your Digital ESL Courses
Ronen Geisler
23-Apr-17
Six Things you Need to Use "Hot Potatoes Facelift"
John Allan
29-Mar-17
What You Need to Know about Academic Writing by NS and NNS
Lisa Smith
22-Mar-17
Google Slides: G Suite Tools for ESL **
Anna Bartosik
26-Feb-17
Promoting Health Information with Adult English Language Learners
Jodie Brant &
Shannon Carney
22-Feb-17
Google Docs: G Suite Tools for ESL  **
Jen Artan
29-Jan-17
Teacher to Teacherpreneur: How to Monetize your Professional Skills
Patrice Palmer
18-Jan-17
PBLA Series, Part 6: Simplifying Receptive Assessment Tasks
Adrienne Horvath Cortes,
Alison Wilson &
Serena Reis
7-Dec-16
Boost your PD with MOOCs
John Allan
23-Nov-16
PBLA Series, Part 5: Simplifying Productive Assessment Tasks
Anna Wodtka &
Barbara Andrews
16-Nov-16
PBLA Series, Part 4: Strategies for Literacy Teachers
Jean Campbell
30-Oct-16
Concrete Strategies to Build an Intercultural ESL/EAL Practice
Geoff Lawrence
19-Oct-16
Supporting Learners with Interrupted Formal Schooling
Dr. Ranya Khan
28-Sep-16
PBLA Series, Part 3: Encouraging Reflection in Learners
Nancy Carey
25-Sep-16
… and Justice for All: The Social Justice Prism in ESL
Yecid Ortega
21-Aug-16
PBLA Series, Part 2: The Language Companion
Carolyn Flores
17-Aug-16
PBLA Series, Part 1: The Initial Student Assessment
Lisa McFaul
27-Jul-16
Mental Health: Understanding Post-Traumatic Stress Disorder (PTSD)
Teresa Kinney
20-Jul-16
Fostering Intentional Learning
Carolyn Samuel
29-Jun-16
Getting Animated: Graphic Novels in the ESL Classroom
Elaine deVries &
Heather Donnelly
19-Jun-16
The Answer Isn't Important: Critical Thinking in EAP
Dr. Ken Beatty
29-May-16
Blorms Alive! An E-Portfolio Suite of Assessment Tools
Hala Bastawros
18-May-16
Igniting Learner Potential Through Project-Based Learning Modules
Shafaque Mulla
27-Apr-16
A Quick and Dirty Approach to Spelling
Judy Thompson
24-Apr-16
Creating Authentic Conversations
Dr. Lilia Savova
23-Mar-16
Using OneNote for Building e-Portfolios
Jen Artan
20-Mar-16
Developing e-Materials for your Classroom with "Hot Potatoes"
Marjan Bateni
28-Feb-16
Understanding the Syrian Refugee Crisis
Bayan Khatib
24-Feb-16
Adaptable Vocabulary Teaching Techniques
Sophie Wang
24-Jan-16
Draw Me a Picture: Pronunciation Tools for Visual Learners
Judy Thompson
20-Jan-16
Integrating Personal Reflection and Storytelling in the Classroom
Anna Bartosik &
Huong Lu
09-Dec-15
Online ESL Resources: What's worth your time?
Rachel Fourny
29-Nov-15
Short but Tweet: Using Twitter in Class with Students (Part 3 of 3)
Anna Bartosik
22-Nov-15
Ted Talks/Animations in your Classroom? – Create a Ted Ed Lesson
John Allan
28-Oct-15
Professional Development on Twitter: Establishing your PLN (Part 2 of 3)
Anna Bartosik
18-Oct-15
Sourcing Copyright Friendly Images
John Allan
23-Sep-15
It's not twerking; it's just Tweeting (Part 1 of 3)
Anna Bartosik
20-Sep-15
Enhancing Your Skills for Private Tutoring
Carolyn Flores
26-Aug-15
Technology for Authentic Purposes
Sylvia Buchanan
27-Aug-15
Tips for Teaching Business English Students & Immigrants
Ric Phillips
26-Jul-15
An Introduction to Powtoon
Jen Artan
22-Jul-15
Put the Power on PowerPoint Games
Rita Carrasco
24-Jun-15
Online Material Development
Joni Sharkey
21-Jun-15
Smartboard Technology: Explore its Many Uses (Part 2 of 2)
Jen Artan
24-May-15
Mental Health in the ESL Classroom
Teresa Kinney
20-May-15
Tech Ideas to Help You Interact with Your Students in a New Way
Anna Bartosik
26-Apr-15
Apps for Learning English (APP-LE): How Mobile Learning can Enhance teaching and Learning in ESL
Dr. Marguerite Koole &
Dr. Robert Power
22-Apr-15
Tutela Resource Download Tool – Share Resources with Your Students!
Diane Ramanathan
22-Mar-15
Excel Grade Spreadsheets (Part 2 of 2)
Marjana Shehaj
22-Feb-15
Mobile Learning Tools
Faith Marcel
25-Feb-15
Microsoft Excel – Not just for numbers
Joni Sharkey
18-Jan-15
An Introduction to Smartboards (Part 1 of 2)
Jen Artan
21-Jan-15
Advanced Infographics
Faith Marcel
10-Dec-14
Empower your Teaching with PowerPoint
Huong Lu
7-Dec-14
Intro to PowerPoint
Faith Marcel
23-Nov-14
Blogging as a Reflective Writing Practice
Jen Artan
26-Nov-14
Microsoft Word Newsletters
Nancy Van Dorp
26-Oct-14
Teaching to the Needs
Svetlana Lupasco
25-Sep-14
Working with Microsoft Word
Nancy Van Dorp
14-Sep-14
Archived TESL Dialogues
The TESL Dialogue series is an open forum where participants are free to turn on their microphones and cameras to fully immerse in a discussion about a relevant topic in ELT. A subject-matter-expert joins participants in this session to help guide the conversation and offer helpful insight when needed.
Format: Throughout the session the moderator will provide the audience with a thought-provoking question to encourage conversation. After the subject matter expert responds to the question, participants are invited to answer the questions themselves, provide a comment or example, or ask a related question to the subject matter expert and their peers. The goal of this session is to develop a community of practice which allows for as many narratives to be heard and shared as possible. The session will conclude with a breakout room reflection activity where participants are encouraged to discuss what they have learned, any remaining questions they have, and their next steps in respect to the session topic.
Access Period to View Videos
TESL Ontario members have unlimited access to TESL Ontario webinar videos. Members must be registered on Tutela and belong to the TESL Ontario group.
Tutela members who paid to register for a TESL Ontario webinar have unlimited access to those webinars they paid for only.
Paid registrants to a TESL Ontario webinar who are not Tutela members have access to the video of that paid webinar for two months, once the video is posted.
Unlimited Free Access to TESL Ontario Members
Note:
If you are not part of the TESL Ontario group on Tutela, join the group using these simple steps
Create a Tutela account on Tutela.ca by clicking Register Now and filling in your information. Please ensure that your username matches or is recognizable to your TESL Ontario membership name.
Login to Tutela.
Click on Groups in the heading.
Use the search function to look up TESL Ontario.
Click View then Request to Join Group.
Your request will be approved by one of our team members. Please allow 1-3 business days for this process.
Once your request has been approved, you will receive an email notification from Tutela and be able to access the TESL Ontario group.
Unlimited Access to Non-TESL Ontario members with a Tutela Account
* The video is only available to those who were paid registrants of the live TESL Ontario webinar.
Login to Tutela.
Under My Areas in the left toolbar, Event & Webinars and, using the drop-down arrow next to Upcoming Events, select Past Events.
Either scroll through the events listings, or enter key words into the search bar to locate videos.
All webinar videos and any resources are attached to each webinar event listing.
Time-Limited Access to Non-TESL Ontario members without a Tutela Account
Paid registrants will have access to the webinar video for two months, once it is posted. Videos are usually available within one week of the live webinar date.
Use the public URL of the event you registered for. This is found in an email sent by TESL Ontario following the live webinar.
Enter the password provided to you to access the recording. The password and instructions to access the webinar recording will be provided to you in an email within 3-7 business days of the event.