Group Insurance Partners
We know that many of our members are employed in contract and part-time positions that may not provide access to insurance benefits. That's why TESL Ontario has negotiated discounted rates for health and life insurance and home and auto coverage with two preferred insurance partners. Learn more about Health Plus Insurance and The Personal below to find the coverage that's right for you.
The Personal – Auto & Home Insurance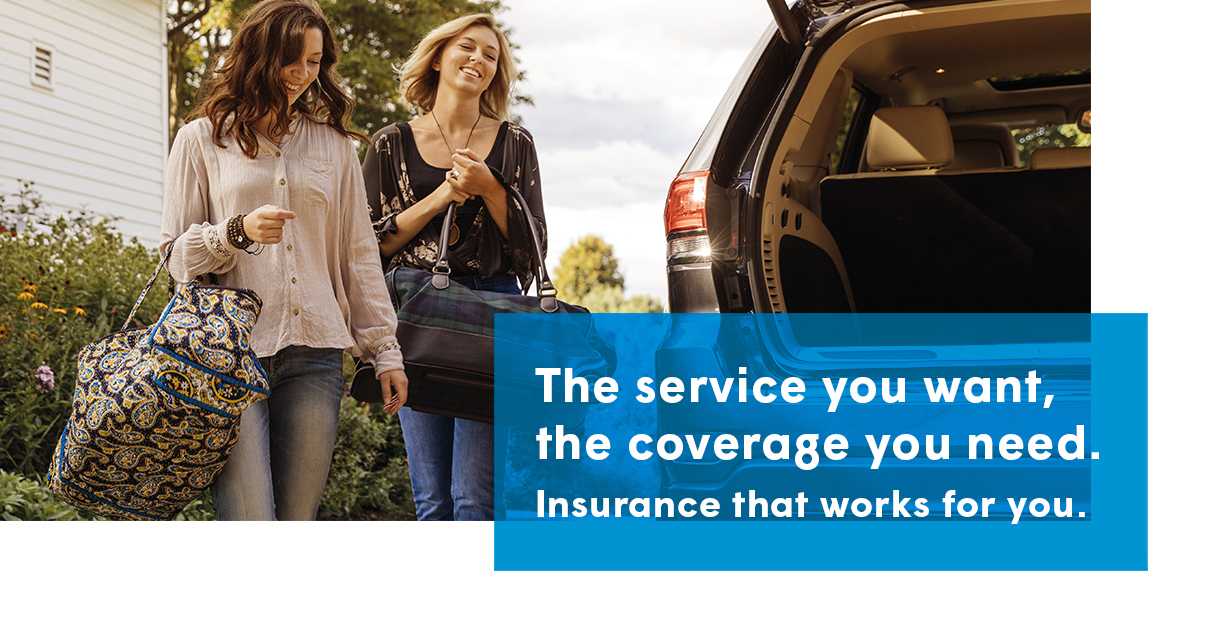 It's time you felt confident about your home and auto insurance. As a member of TESL Ontario, you get access to exclusive group rates from The Personal, and a seamless experience every step of the way – from getting a quote to making a claim.
As one of Canada's leading group insurers, with the trust of 700+ organizations who have partnered with us, we're committed to making insurance as straightforward and affordable as possible.
Auto Insurance
An easy road to savings
Conviction-Free: Save up to 15%
Multi-Vehicle:1 Save up to 15% on each car's premium when you insure two or more cars
Home Insurance
Because it's more than just the place you live
All-Risk Insurance: Your home and the things inside are covered against fire, theft, vandalism and certain types of water damage
Claims-Free: Save up to 20%
Security System: Save up to 20%
With you, whenever you need us
As a client, manage your policy or file a claim, anytime, anywhere with Online Services, and you could get the most out of your insurance with The Personal App
Ajusto® : Save after just 100 days of safe driving
Alert ™: Get an alert if water or freeze is detected in your home
Radar ™ weather alerts: Get an alert if there's a hailstorm, windstorm or other major weather system that could damage your property
Get a quote and see what The Personal can do for you.
1-888-476-8737
thepersonal.com/teslontario
Health Plus Insurance
Health + Dental + Travel Insurance for TESL Ontario members
With Health Plus TESL Ontario members get better health and dental benefits at preferred rates. Created to give business owners, freelancers, and contract workers a better choice for health insurance, Health Plus provides excellent coverage, low, stable rates, and flexibility to cover just yourself, your family, or your team.
Designed to Save You Money
Health Plus Covers More
Prescription drugs up to $30,000 / year, paramedical practitioners, routine and major restorative dental, travel emergency health, and more. High coverage maximums and no low per visit limits.
Preferred Pricing
TESL Ontario members save on PRIORITY & OPTIMUM plans. Plus, rates don't go up with age. Special pricing for families, including a single parent rate.
Wellness & Business Extras for you, your family, and your team
Health Plus plans come with extensive wellness and business resources you won't find with other plans, at no extra charge, no claims required.
Telus Health (LifeWorks) Employee and Family Assistance Program (EFAP)
Confidential counselling, digital wellbeing tools, retail perks to
save you money.
Custom HR Advice
No matter your business size,
you want to do things right.
Get your questions answered by an HR expert.
Pharmacogenetic Testing
Help your doctor make sure
your medication is right for
your DNA with this simple test.
By Small Business for Small Business
If you want benefits for your team, Health Plus is more flexible and affordable than traditional group insurance. As experts in benefits for small to mid-sized businesses and owners themselves, the Health Plus team works hard to make sure you have the best benefits for you, your people, and your budget.
Getting started is easy. View coverage and rate details online or reach out to Health Plus with any questions.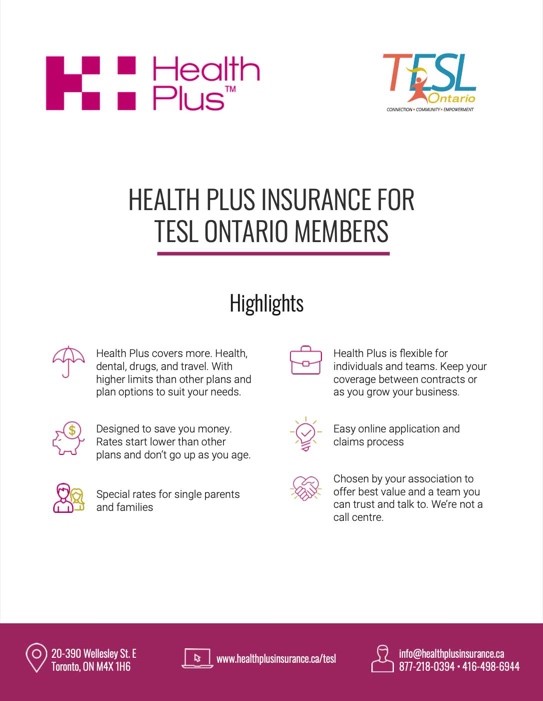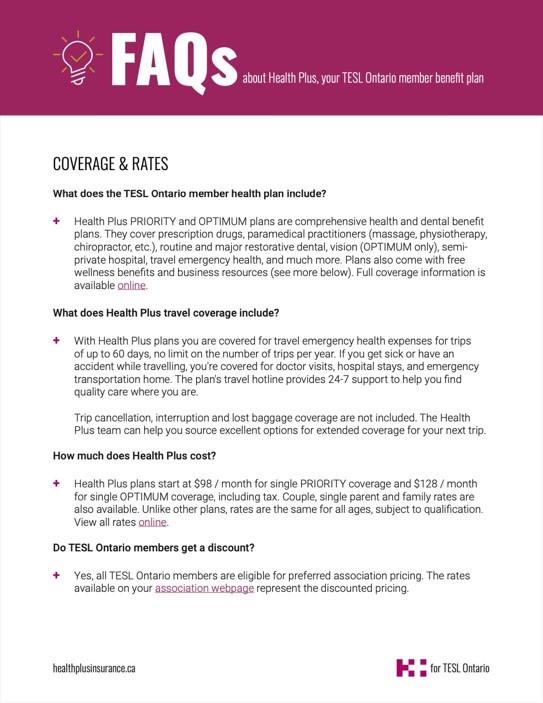 healthplusinsurance.ca/tesl | 877-218-0394 | info@healthplusinsurance.ca